Clean, clear, connected data. That was an overarching theme of HubSpot's Chief Product Officer Stephanie Cuthbertson's spotlight presentation highlighting the company's vision for the future of their product at INBOUND 2022 in Boston earlier this month.
Unlike previous INBOUND years that announced major new product offerings or a philosophical shift from the funnel to the flywheel, this year focused on optimizing existing features and equipping marketers and sales teams with tools that allow for deeper customer connections, provide deeper insights, and align their efforts even further.
After being virtual for two years, INBOUND 2022 brought people together from around the globe to emphasize the "Age of the Connected Customer." Personal connections are human connections, and the following HubSpot product announcements showcase more ways to deepen those relationships.
RELATED: 4 Big Takeaways From INBOUND 2022
Marketing Campaigns Tool 
Eliminating silos is a key to eliminating friction. HubSpot's Marketing Campaign tools provide insights to both sales and marketing in one platform. They help to ensure alignment and that everyone is working toward the same goals by executing campaigns that drive growth and ROI.
What's New? 
Campaigns Tool Improvements & Added Features
Platform: Marketing Hub Professional and Enterprise
Upgrades to the collaboration tool — support for comment threads and task lists connected to assets
Ability to include forms as an asset on new or cloned campaigns 
One unified calendar
View revenue and deal attribution within campaigns
Compare campaign performance across channels
Better understand what influenced various contacts
Why It Matters 
The addition of attributions and campaign comparisons informs stakeholders about what's really working and what isn't. Better collaboration and asset tracking create transparency among teams. In the end, there's better reporting, tracking, collaboration, and project management.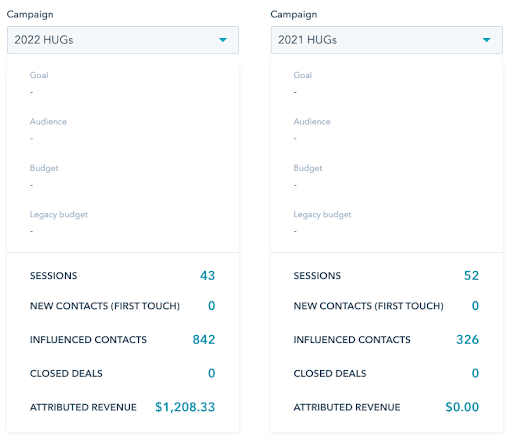 Customer Journey Analytics 
Who doesn't want greater transparency into customer journey touchpoints? Every customer is different, yet many campaigns seem to follow the same cookie-cutter formula. They also tend to assume that a customer's journey is organized and linear. In reality, their journeys tend to have a lot of detours and twists and turns. New customer journey analytics tools help you uncover and customize to their experiences.
What's New? 
Customer Journey Analytics
Platform: Marketing Hub Enterprise (Beta) 
Visualize an individual customer's end-to-end journey 
Gain the ability to optimize their experience for more conversions
Why It Matters
Rather than a single, giant data pool, attribution data tells you when, where, and how individual prospects interact along their buyer's journey and what's making a real difference. Personalized experiences and full-funnel attributions help customers feel a deeper connection and build relationships.

CRM Customizations 
Customer Relationship Management (CRM) software isn't just a marketing tool. Everyone from HR to Sales to Service reps use the data to streamline their processes and deliver seamless customer experiences. But each department leverages and prioritizes that data differently. New features give you the ability to customize each team's CRM views with the information they use most. 
What's New?
Record Sidebar Configurations 
Platform: All Professional Tier Customers (Live)
Admins can show or hide card sections in the right sidebar on an object record
Configure conditional logic to show the most relevant information to the right user — If HR wants to see job applicants vs. SQLs, their development team can build configurations to make it work
Customize layouts and permissions for teams
Record Custom Tabs
Platform: Sales and Service Hub Enterprise (Beta)
Developers can create additional custom tabs in the object record
Interact with internal or external data using custom cards (e.g., a button to trigger a HubSpot workflow, property list of external ERP data)
Why It Matters
HubSpot users can customize their contact, company, and deal records based on the properties that matter to reps. In other words, you can build your CRM data to fit your company; not the other way around!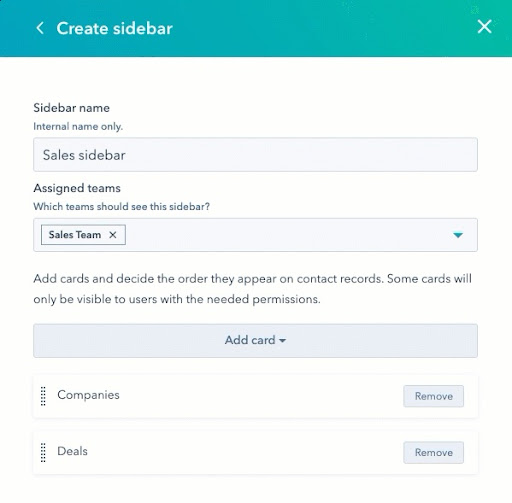 Data Management & Data Quality Features 
The key to clean, clear, connected data is stopping bad data before it starts. You also need to keep that data clean going forward. New HubSpot features are aimed at helping you start with and maintaining consistent, accurate data.
What's New?
Import Error Handling and Property Validations 
Platform: Operations Hub (Live)
Reduce manual work with automated features that improve the import experience
Discover and fix errors before creating or updating data in your CRM
Prevent what users can and can't save as a property value with property validations
Data Quality Command Center
Platform: Operations Hub Professional and Enterprise (Beta)
Get at-a-glance insights on the health of all your HubSpot data on a single dashboard
Identify unused properties, data sync bottlenecks, formatting issues, duplicates, and more
Fix errors in the command center
Data Quality Automation Recommendations
Platform: Operations Hub Professional and Enterprise (Beta)
Set rules to automatically fix formatting issues with AI-powered recommendations (e.g., capitalize last name, spacing) 
View all the records impacted by the change
Why It Matters 
Organizations need a single source of truth and the ability to quickly identify and correct errors. Reliable data enables connected experiences and more meaningful interactions. Now, marketing, sales, and service teams can spend less time scrubbing and more time engaging with customers on a deeper level.
Without maintenance, CRM data decays at 34% each year. — Validity, 2022
Many of the new features and upgrades announced at INBOUND 2022 are available to HubSpot Pro and Enterprise customers. For companies that want to stay on the leading edge of innovation and gain a competitive advantage, upgrading their HubSpot license should be a consideration. 
For a full overview of recent HubSpot product updates, many of which are available with any level of HubSpot, check out their video below. 
Whether you've been using HubSpot for years or are just getting started, there's something to learn in our Guide to Improving Your Inbound Efforts. Click below to learn more, and reach out to our team if you want to request an inbound assessment.